Elioslamp - Pluto (photobiomodulation red/near infrared LED lamp)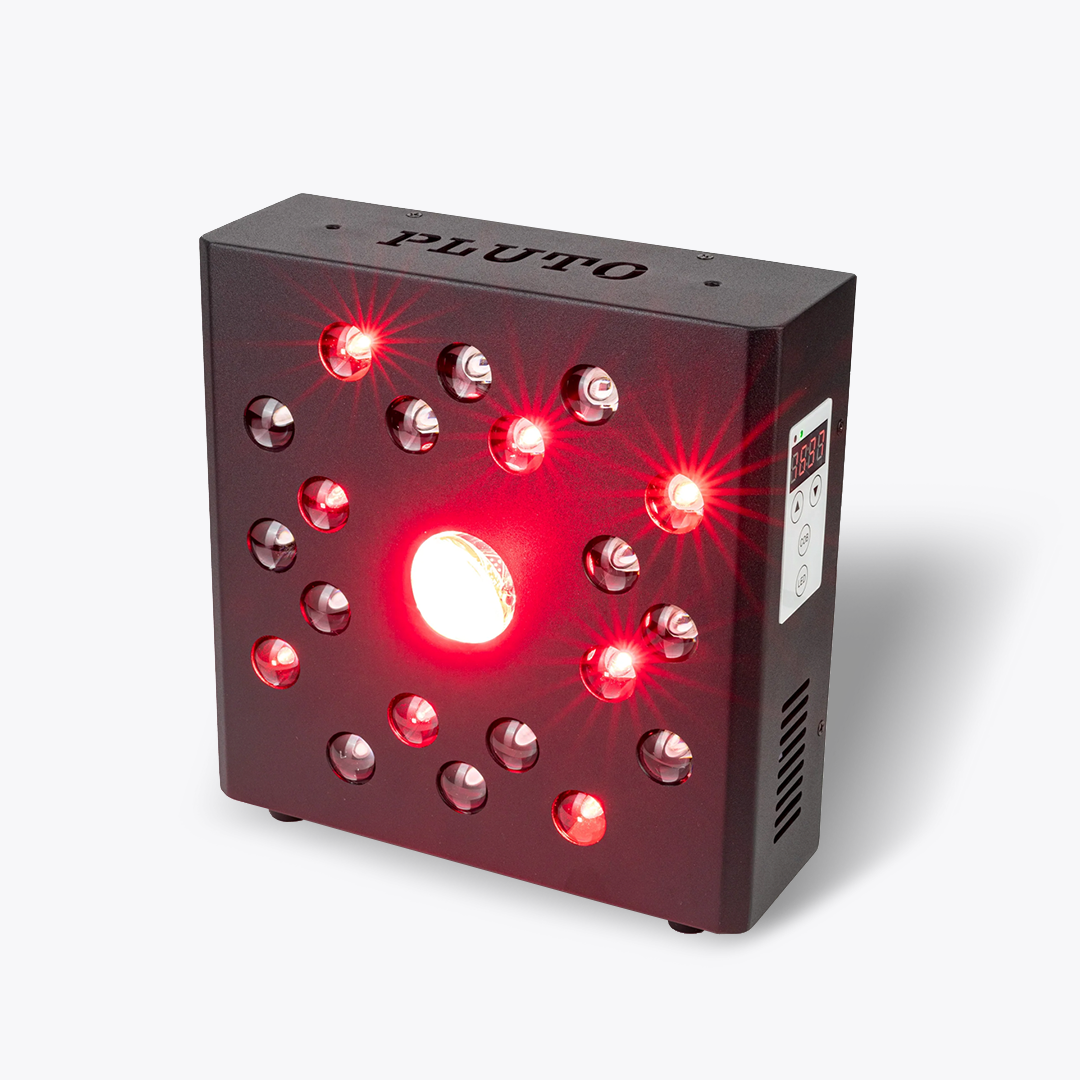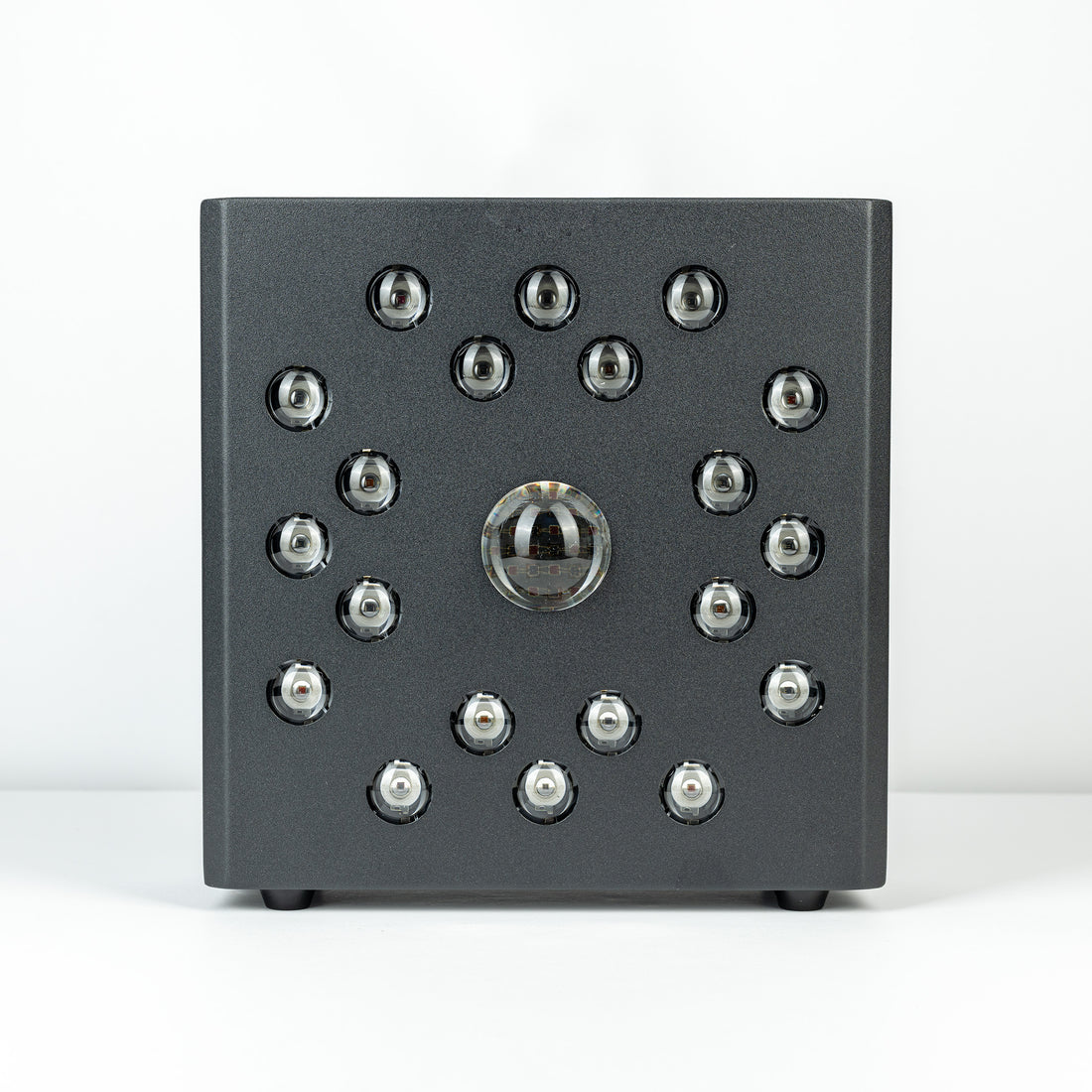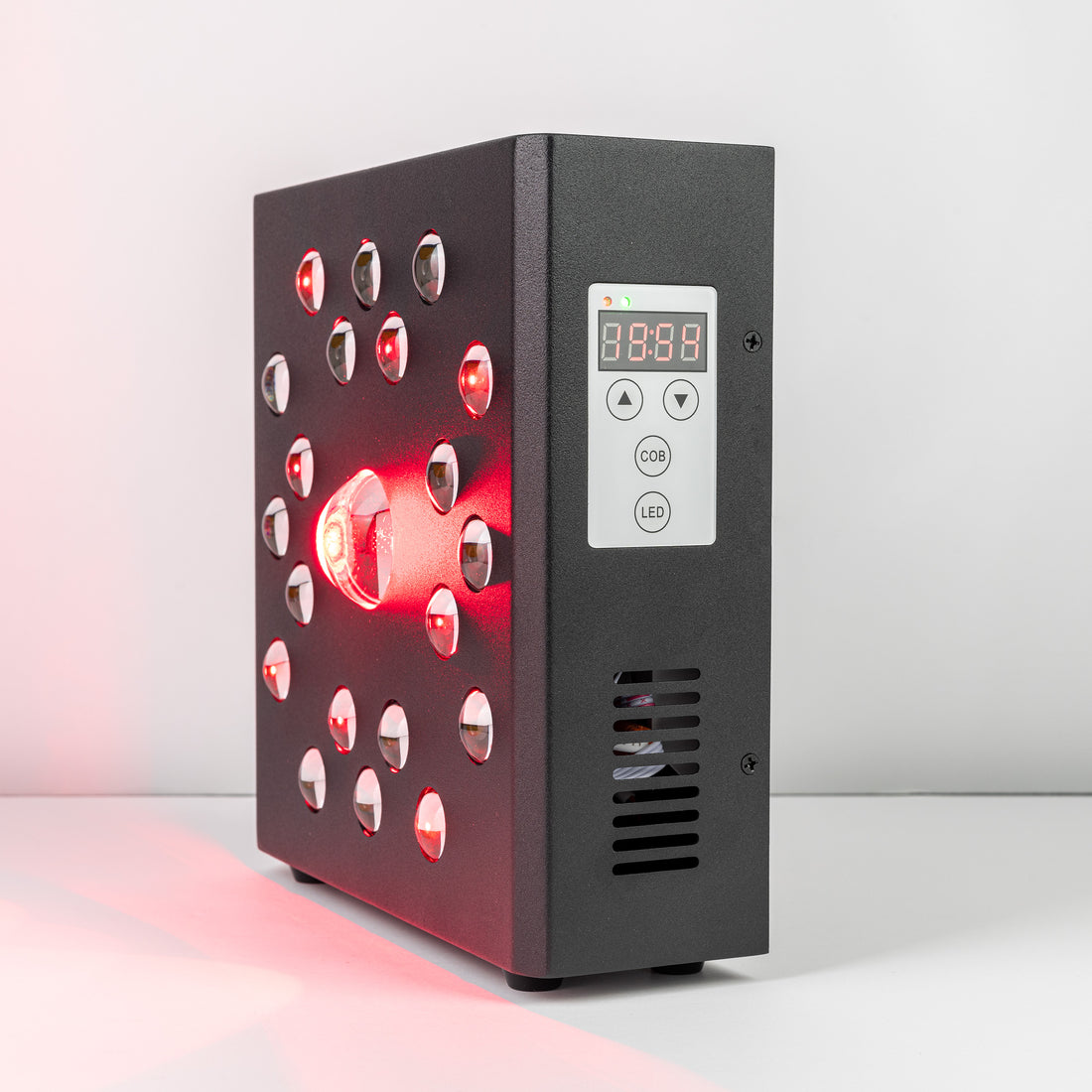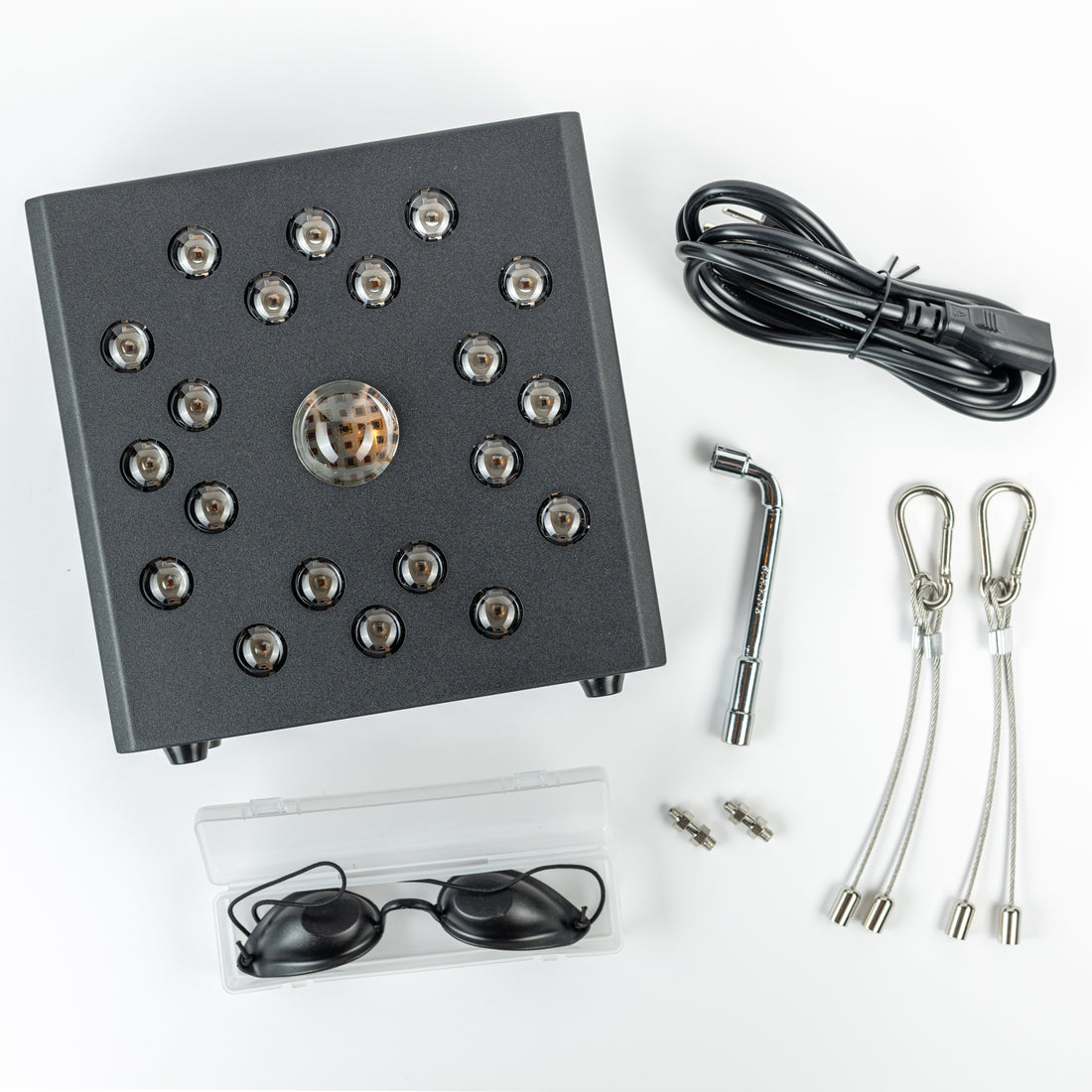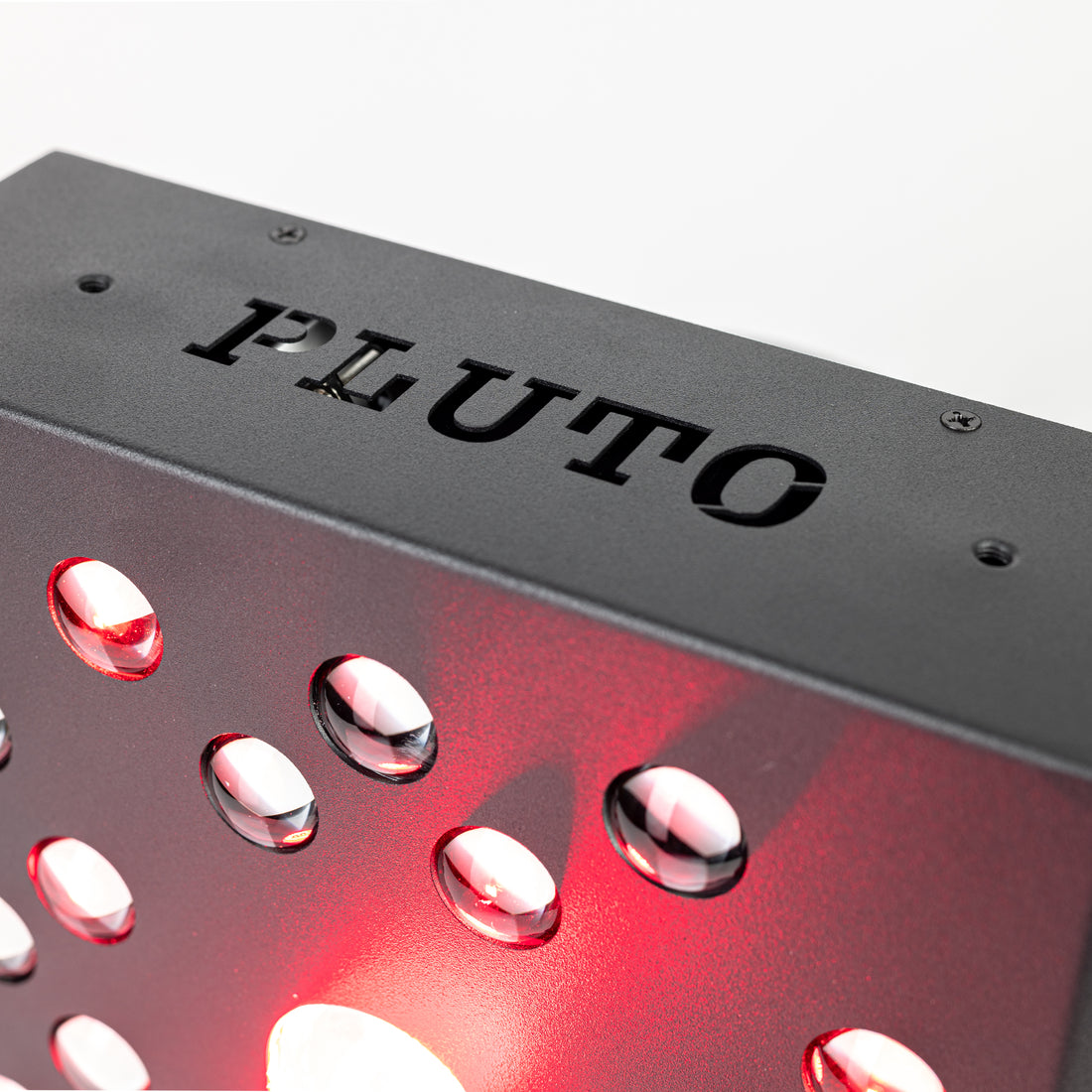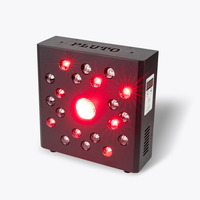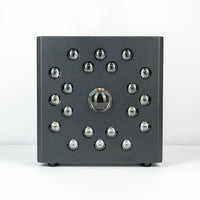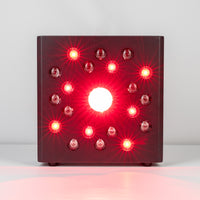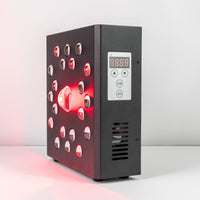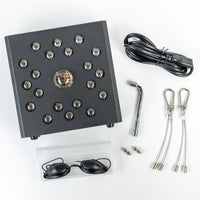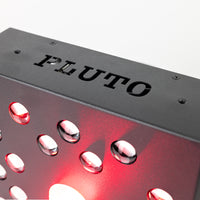 Elioslamp - Pluto (photobiomodulation red/near infrared LED lamp)
ELIOSLAMP PLUTO: photobiomodulation red/near infrared LED lamp.
The Elioslamp Pluto model is our entry level device for photobiomodulation. The main central light bulb is a 200W COB (Chip on Board) LED technology, with the perfect ratio (2:1:1) of the most biologically active wavelengths (670:830:850 nm), and also includes 20 smaller LEDs (630:670:810:830:850 nm - 4 pieces of each). Our COB is the most powerful and functional unit on the market, with the highest irradiance ((200 mW/cm2 at 6" away), with very low EMF emission and is flicker-free. The high irradiance allows for very short and effective treatments.

Thanks to its compact design 7,6"x7,6"x2,56" and a metal alloy 4 times lighter than iron, it only weighs 3,85 lbs, and it's easily portable and usable. Cables and hooks for hanging it up are included. The LCD display shows the treatment time that can be chosen using a user friendly control. The shut-off timer allows the user to run the smaller LEDs during sleep without the need to switch off the lamp. The lifetime of the lights is between 50,000 and 100,000 hours.

Due to the small size of the LED chip relative to a packaged LED, Chip-on-Board technology (COB) allows for a much higher packing density than surface mount technology. This results in higher intensity, greater uniformity and energy efficiency for the user.
The advantages of Chip-on-Board LED arrays are:
Compactness, due to small size of the LED chip
High intensity, particularly at close distances
High uniformity, even at close working distances
Best thermal performance for better lifetime, stability, and reliability
https://www.prophotonix.com/blog/advantages-of-chip-on-board-led-vs-surfacemount-led/
The lamp speeds up muscular recovery, strength, and endurance, lowers inflammation, induces collagen synthesis, and boosts energy levels. Moreover, it halves the healing time from injuries and wounds and provides pain relief. It also exerts an anti-aging action on hair, wrinkles, stretch marks, and cellulite. Studies have shown photobiomodulation to be beneficial for stem cell activation, cognitive function, stress reduction, chronic fatique, "autoimmune" diseases, blood flow, oral issues, and even depression. There are more than 8000 scientific papers about the efficacy and safety of red and infrared photobiomodulation.
It is possible to use the 20 small 3W LEDs (60W in total) separately from the COB, for house lighting in the evening, in order to promote natural melatonin production and restful sleep. The red light is circadian rhythm-friendly and stimulates melatonin production without disrupting circadian clock regulation.

TECHNICAL SPECS:
DIMENSION 

194x194x65mm=7.6x7.6x2.56 inches

POWER

260w (cob: 200W + led: 20X3=60W)

Net weight

1.75KG=3.85 lbs

Wavelength

670:830:850=2:1:1

Input voltage

ac 85-240v

Frequency

50/60HZ

Flicker

NO flicker

Timer

5,10,15,20,25,30mins on choice

Secondery lens

COB glass len:60 degree, led: 60degree

Power density/distance

6inch 200 mW/cm2

12inch 59 mW/cm2
150 Watt device with UVA and UVB
Height: 50 cm (20 inches)
Length: 42 cm (16.5 inches)
Width: 12 cm (5 inches)
Made in Italy
Disclaimer: Using this product too frequently or for long periods at a time could cause burns to the skin; please be mindful of use and length of use for each session.
Share
Elioslamp vs. Other UV Lamps
Learn about the key differences with our lamps.
Please watch Dr. Cowan's podcast interviews (Parts 1 & 2) with Alessio Angeleri
#35: Alessio Angeleri
On this week's episode of Conversations with Dr. Cowan and Friends, I talk with Alessio Angeleri, an Italian researcher, who uses his background in chemical and electrical engineering to look...
Listen/Watch Now
#40: Alessio Angeleri - Part 2
Today's podcast is Part 2 of an interview with Italian engineer and inventor Alessio Angeleri.  In the first interview, we laid the foundation for the importance of light for human health.  In...
Listen/Watch Now