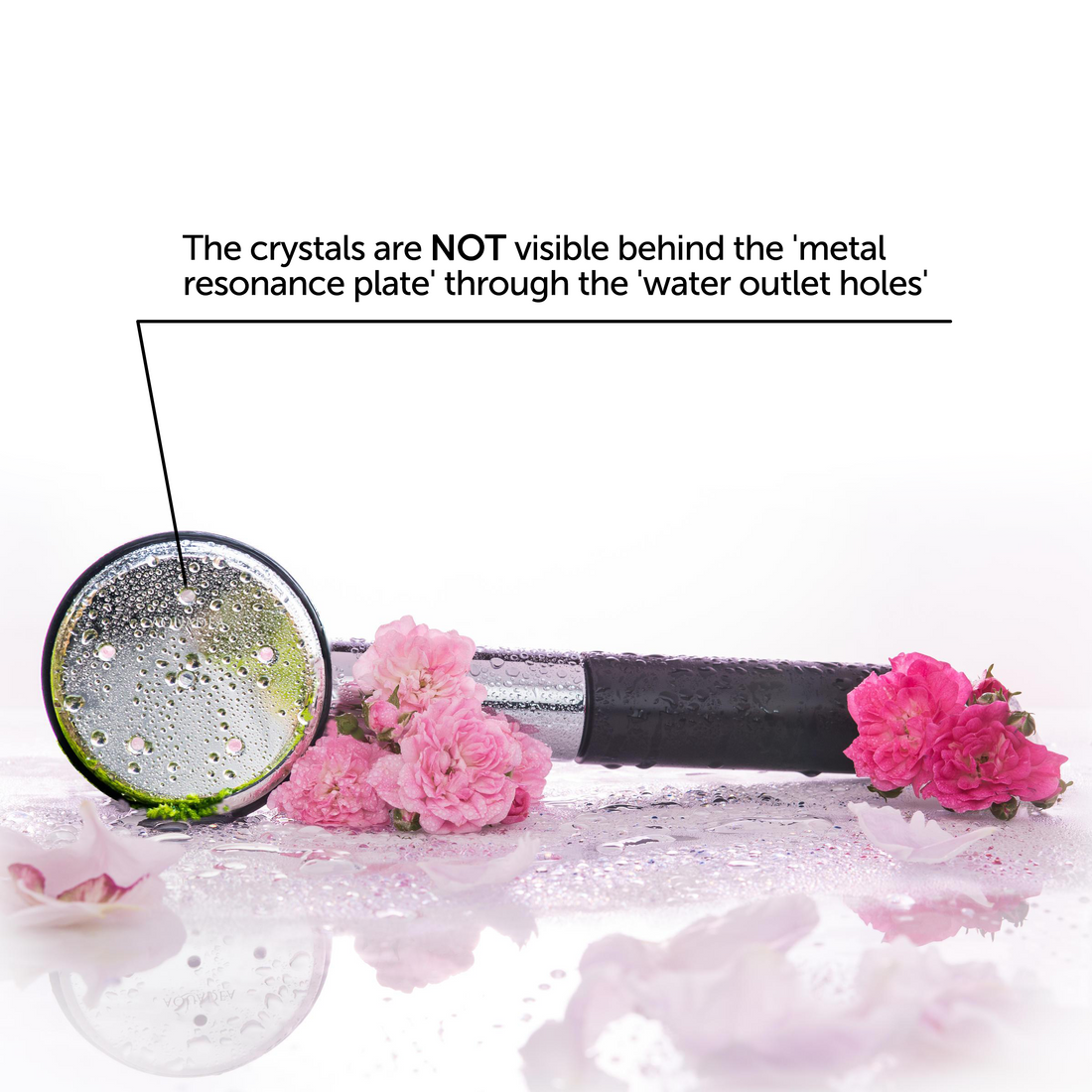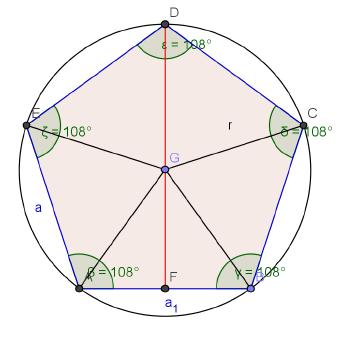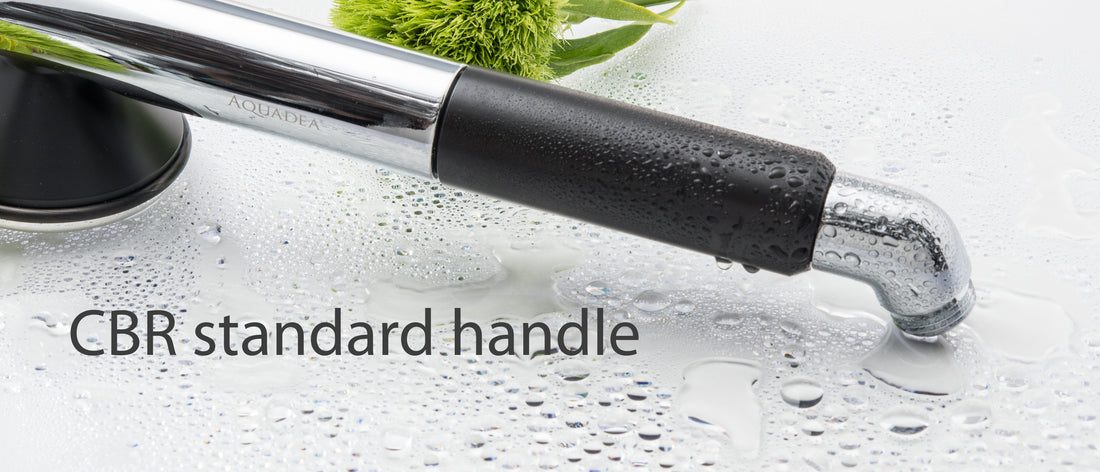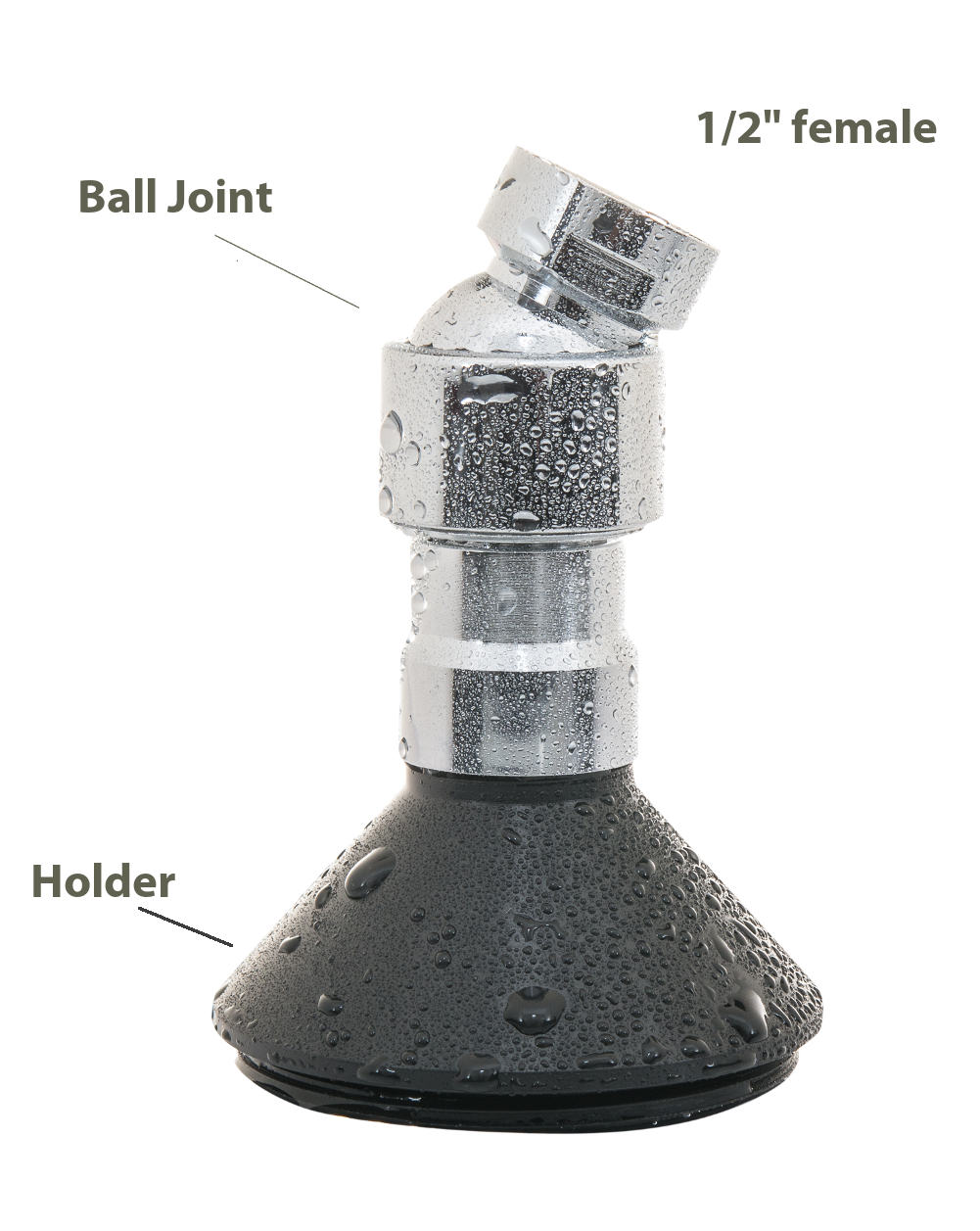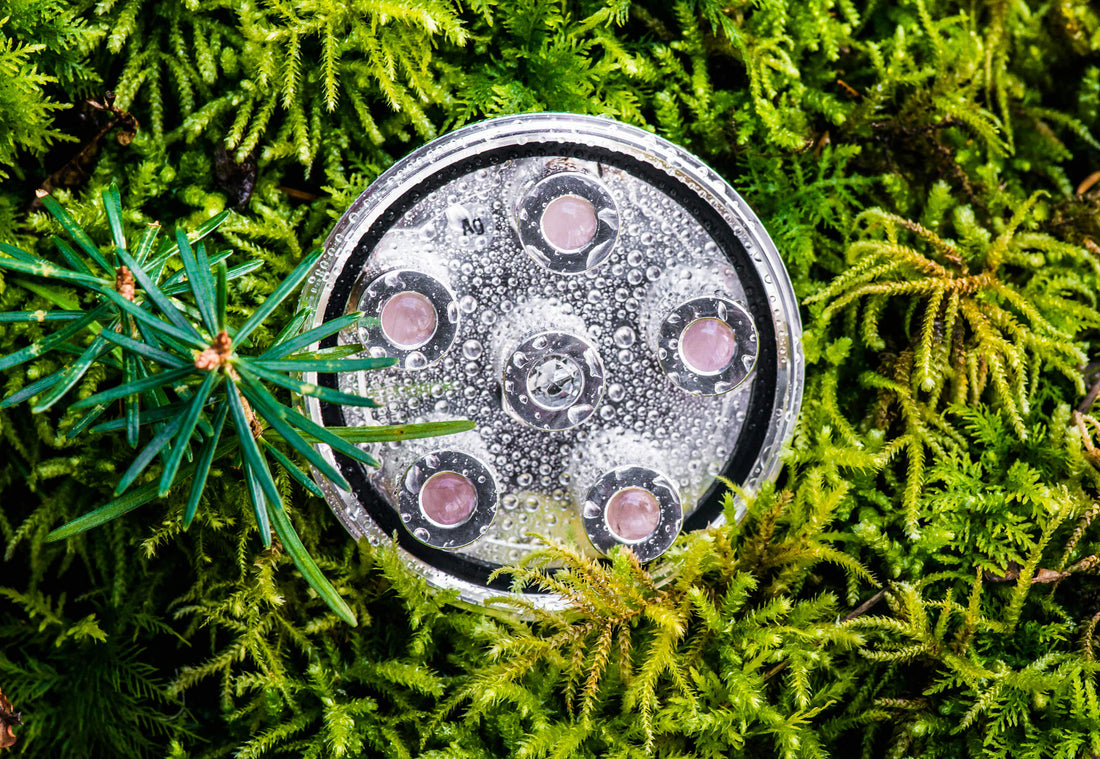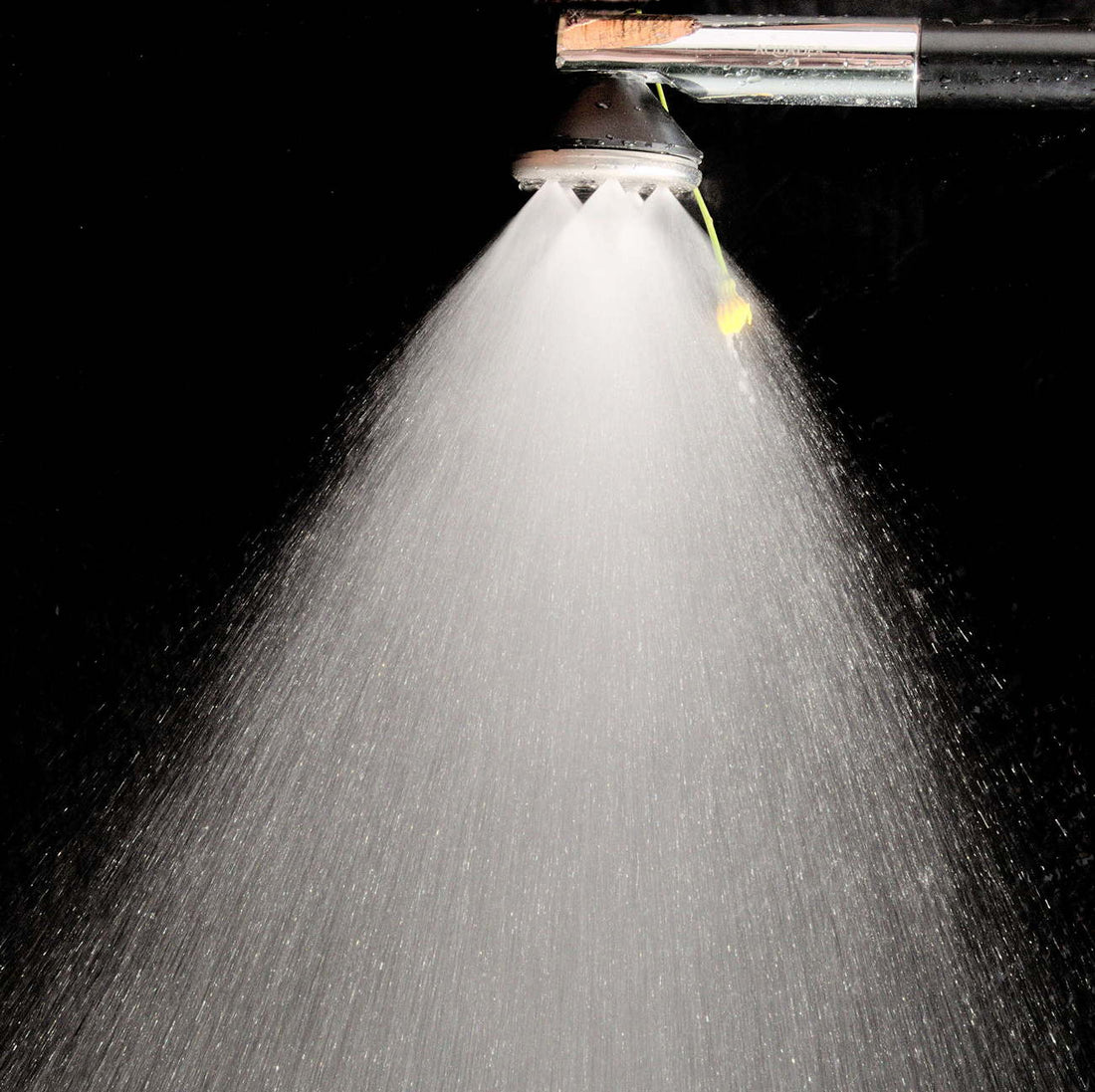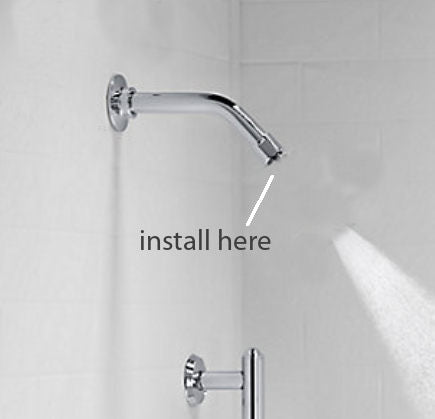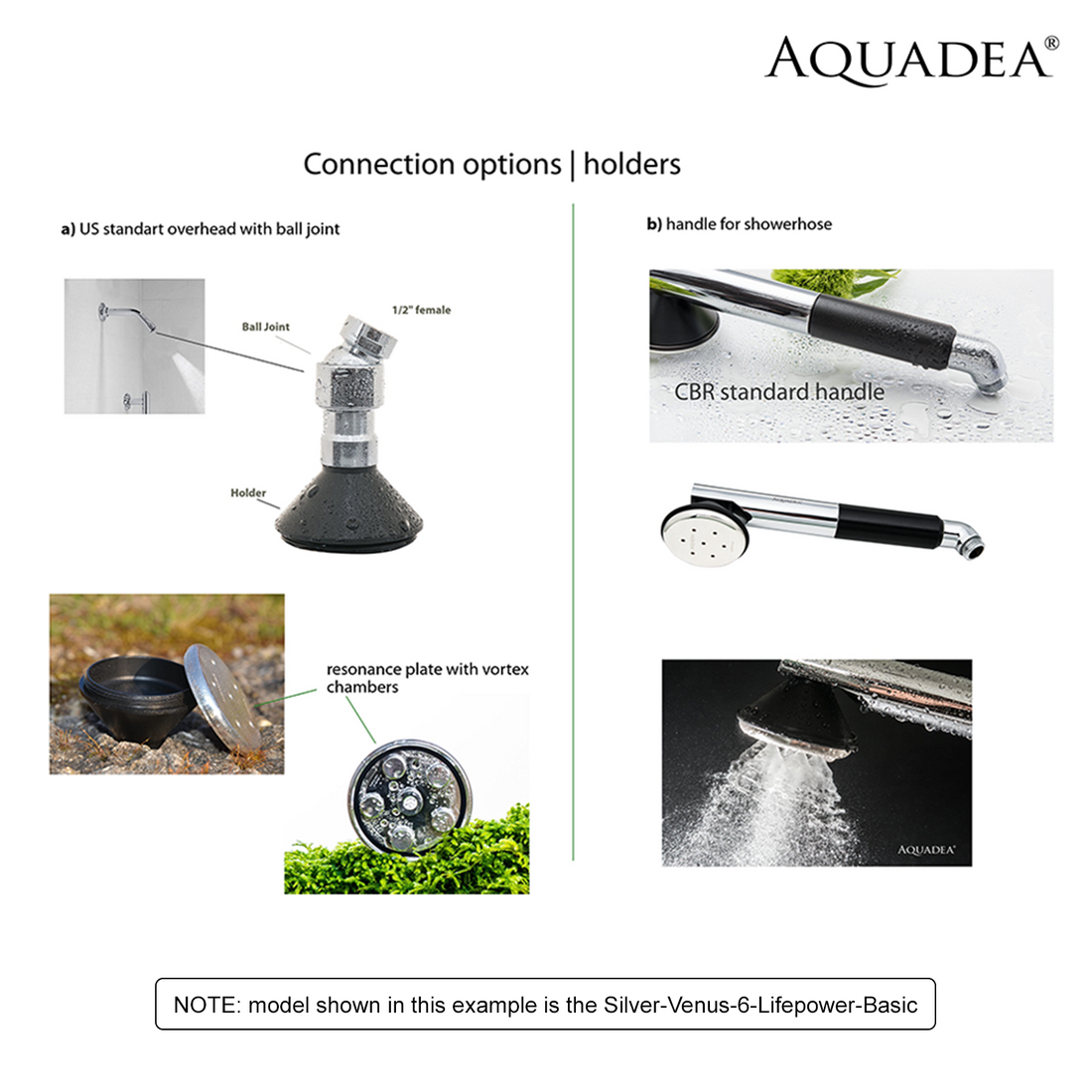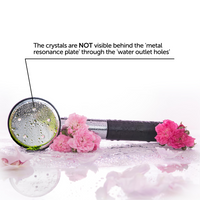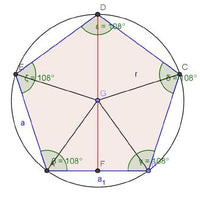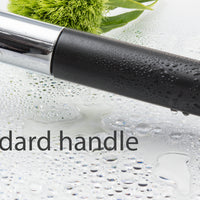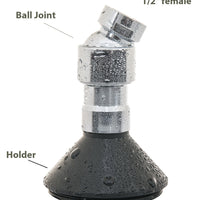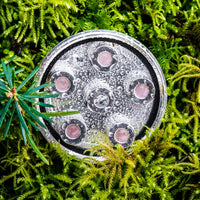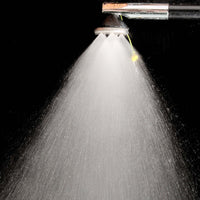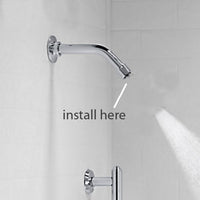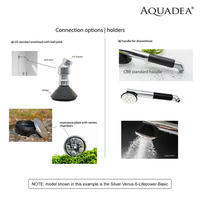 From Dr. Cowan: The interior of this showerhead, made by the Aquadea company in Germany, is lined with gold, silver, and crystals in a very precise pattern.  Based on the work of Viktor Schauberger, an Austrian forester, inventor, and philosopher, the chamber inside the showerhead creates a torus energy field that greatly enhances the creative energy of the emerging water.  Astonishingly, putting the water through this internal vortex chamber creates a suction, which one can feel by putting your hand on the emerging water.

This suction phenomenon exactly mirrors how the heart interacts with the blood in our bodies.  The purpose of this energetic field is to imbue the water with the energy that creates life.  You will feel energized taking showers with the showerhead's water, and your plants and animals will have improved health and vitality if given this water. 
The showerhead is not meant to purify the water, although there is evidence that it does make the impure elements in the water less harmful to plants, animals, and people.  Still, it is best to purify the water first, and then put the showerhead on the pipe or hose from which the water emerges.
Items are made to order. Please allow 3-6 weeks for delivery.
This product is shipped directly from the manufacturer, which is outside the United States; custom fees and taxes may be applied. For further details on our international order policy, please view our shipping policy as stated under the "Shop" header on our website or under "Shipping Policy" which is located as a link on the bottom of our website
For more information, visit Aquadea's website by clicking here.
Stability, creativity & heart warmth

Each rose petal symbolizes a new idea and new inspiration.
Silver gives stability and stimulates creativity in people.

This extraordinary shower is complemented by the heart-oriented rose quartz.
It fosters & strengthens confidence in one's own abilities.

Look forward to the encounter with the "Little Rose" Crystal vortex shower!
This jewel vortex shower consists of the following components:

a resonance plate made of bell bronze, coated with fine silver

a central crystal vortex chamber, made of pure titanium with rock crystal

5 crystal vortex chambers covered with rose quartz outside

an Aquadea shower handle Standard CBH - fits any shower hose

Rose Quartz
Gently and sensitively, rose quartz helps you to unfold effortlessly and to recognize and realize your own needs.

It stands for harmony and warmth of heart.
Quartz
Rock crystal brings clarity and vitality. As one of the most important harmony and healing stones, it improves the perception of the outside and inside world, strengthens the personality, and has a power-giving effect.

It resonates with the rose quartz and thus enhances its effect.

The central crystal vortex chambers are made of pure titanium.
Titanium & rock crystal reinforce each other and harmonize perfectly.
Silver
Silver brings freshness and awareness like a mountain stream.
It evokes inspiration and wealth of ideas and encourages creative solutions.
Especially in situations of change, silver provides grounding and stability - and gives you support for treading new paths.
Another property of silver is its antiseptic impact, which has been used by humans for centuries.
The combination of silver and rose quartz is particularly suitable for people with sensitive skin.

Silver is the metal with a universal effect and is therefore also suitable as a family shower.

Any questions? Please contact our customer service team.
Unique and Exclusive Products for the sophisticated taste
Hand manufactured Crystal-Vortex-Showers and Crystal-Water-Vortices from Upper Bavaria.

The Aquadea Manufacture located in the Bavarian town Maisach near Munich has been designing and developing hand-manufactured Crystal-Vortex-Showers and Crystal-Water-Vortices since 2007.

All products are crafted exclusively in Bavaria from the most precious materials and with a great love for detail.

Precious metals, Crystals, and a unique Vortex technology blend together to make a premium product and reinforce the natural powers of water.

Especially on hot days, the products, from the market leader in Crystal-Vortex technology, provide shower or drinking water with exceptional freshness and vitality.

These products rekindle the memory of the strength of a vivid alpine stream.

Regardless of whether you're using Aquadea-Crystal-Vortex water for drinking or for taking a refreshing shower, you'll definitely profit from it in a unique way.

Aquadea-Crystal-Vortex showers will let you experience something indescribable. And they will encourage you to think about the unthinkable.

Aquadea offers a variety of Crystal-Water-Vortices and Crystal-Vortex-Showers.

Regarding precious metals available in our portfolio, the range extends from gold, silver, and platinum up until ruthenium and rhodium.

The gemstone choice is done according to our clients' preferences: sapphire, emerald, ruby, or diamond – the variety of crystals ingrained in the Vortex chambers is unlimited.

Following a personal consultation, each client can decide which Crystal-Vortex chambers will go into their shower.

This is how Aquadea products receive their unique character!

Convince yourself of the extraordinary quality of our unique items.

The head of development of the Crystal-Vortexing technology Werner Habermeier would be happy to present to you a curated selection on-site in Munich!
Other available Aquadea crystal-vortex showers with implosion technology:
LifePower "Larimar 5" - sapphire - PLATINUM" | vitality, intuition & self-actualization
LifePower "Silver Venus 6 " Basic | clarity and inspiration