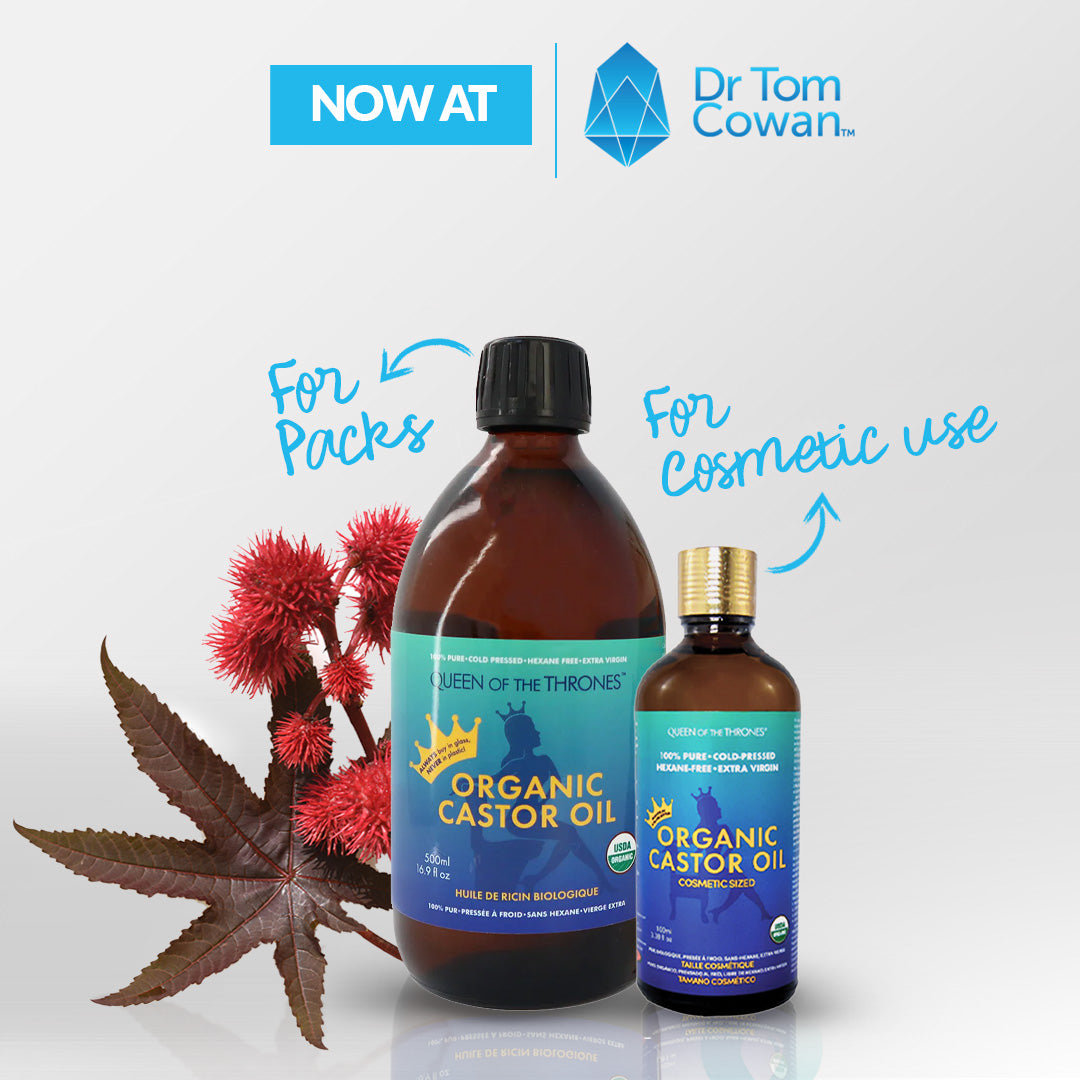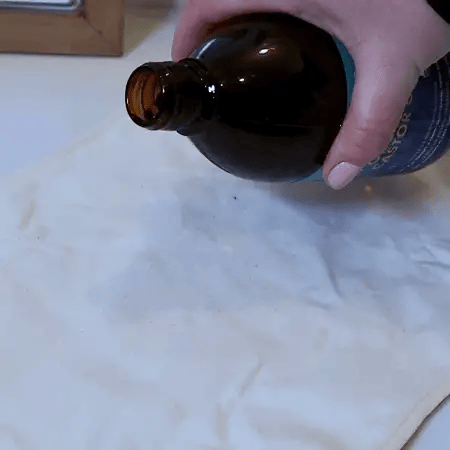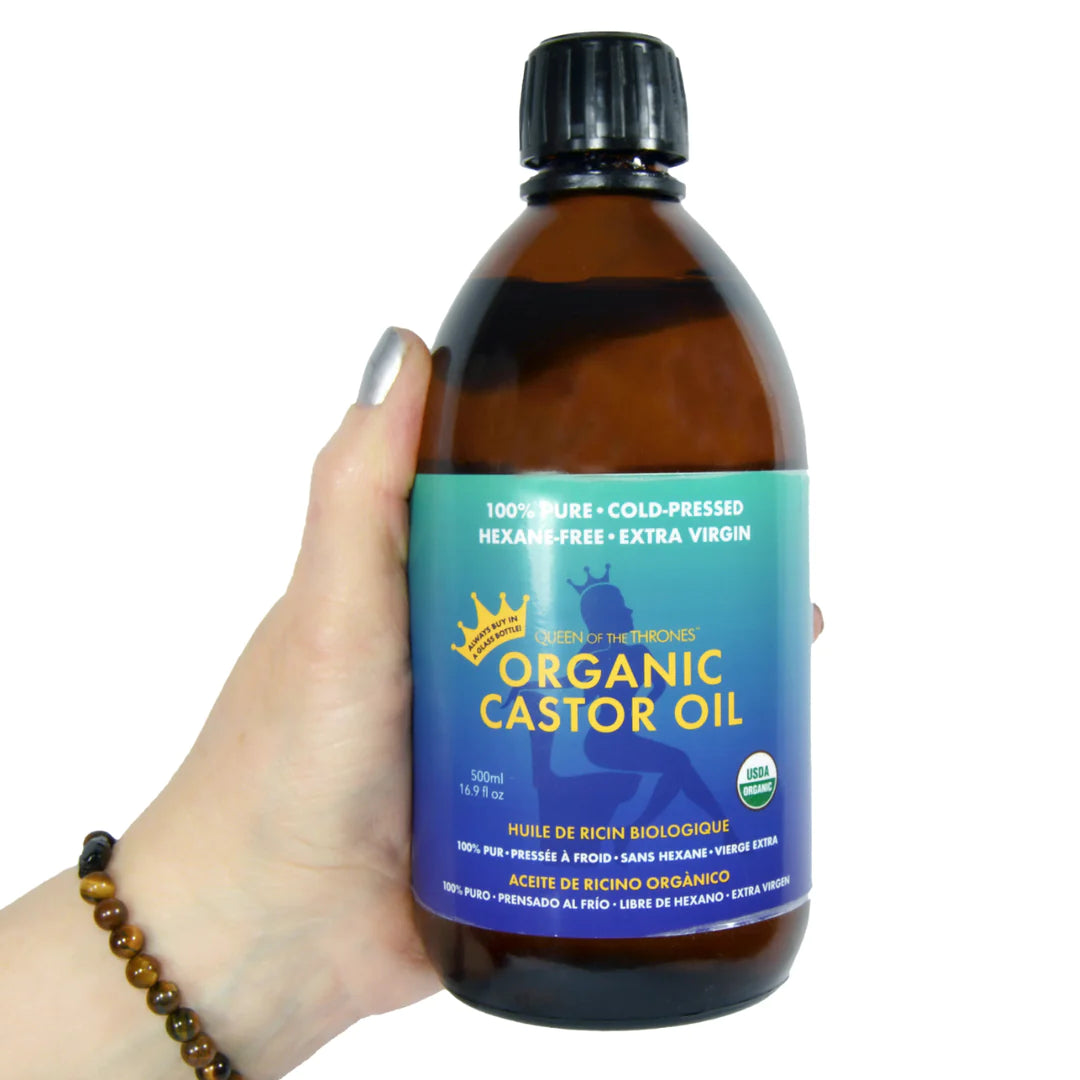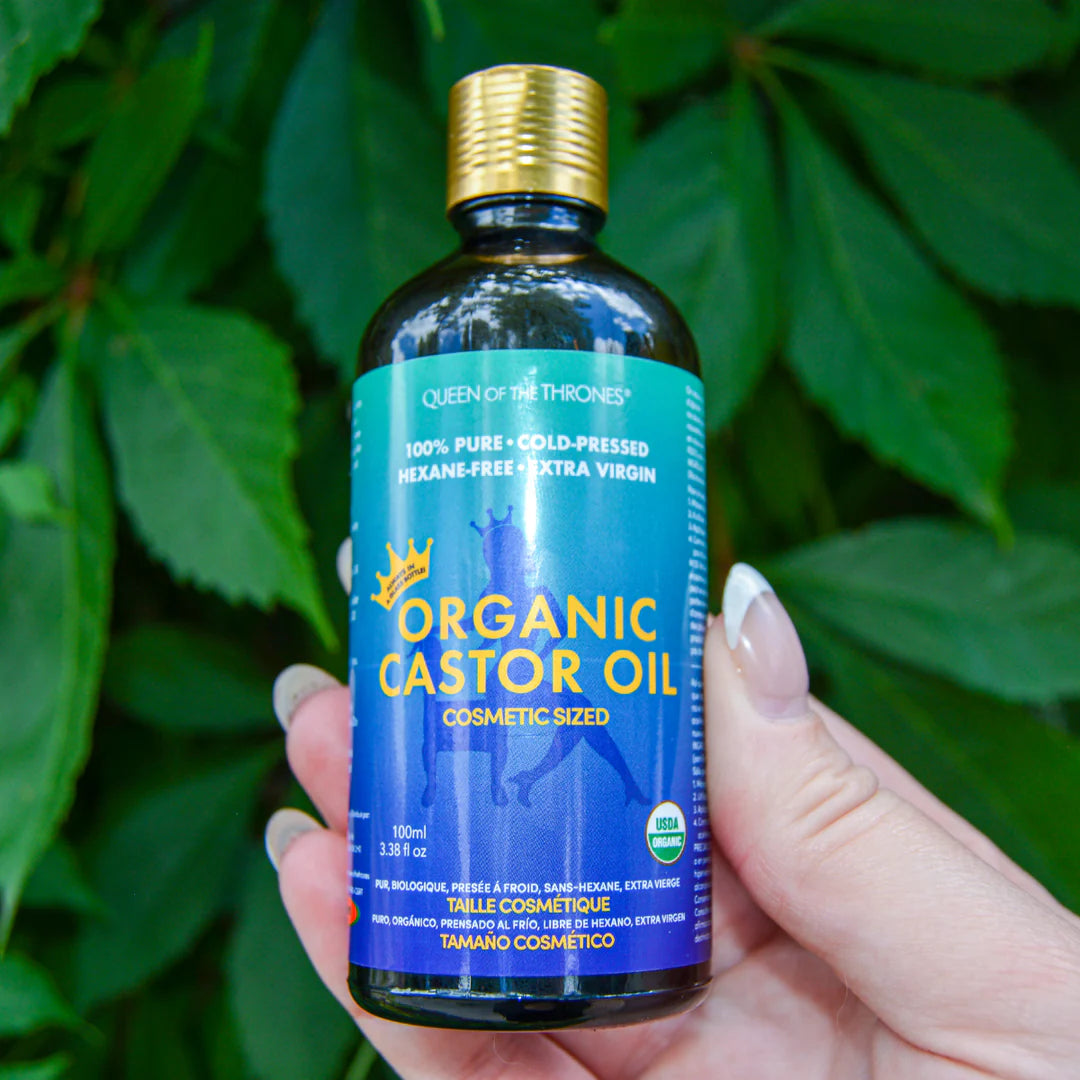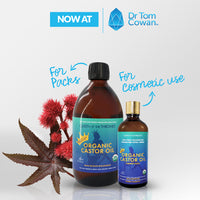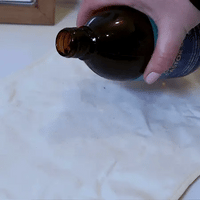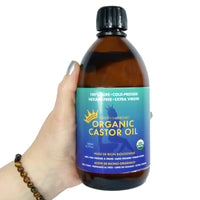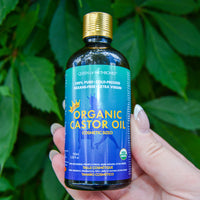 100% Pure, Hexane-Free, Extra Virgin Cold-Pressed Organic Castor Oil, bottled in amber glass. This naturopathic doctor's choice castor oil is the perfect companion to your Castor Oil Packs. This multipurpose carrier oil was traditionally used as an oral laxative, but our food-grade oil is intended for topical use only. It's nature's original skin, hair, lash and brow growth serum, makeup remover and oil for dry brushing.
Choose from two sizes: 16.9 oz (500 ml) or 3.38 oz (100 ml) bottles.
How It's Made
Processing with heat or hexane can corrupt the high antioxidant profile of organic castor oil, while cold-pressing preserves the highest content of vitamin E, omegas, polyphenols, and other nutrients. Non-organic oil may contain harmful chemicals or pesticides.
Why Glass?
Glass is a MUST with castor oil, due to its ability to permeate and carry substances deeply into the layers of skin. Castor oil bottled in plastic may leach hormone disrupting substances that cancel out the benefits of your practice.

How to Use it.
Castor oil is your modern-day all-in-one go-to cosmetic and self-care oil used from head to toe for:
Castor oil packs over the liver, pelvic area and thyroid, as well as combined with dry brushing to enhance benefits.
Supporting hair, lash and brow growth, easy makeup remover, restorative for wrinkles and dark circles, and soothing massage oil.
Combining with other natural ingredients to create DIY recipes for face and hair masks, exfoliant scrubs, nail and cuticle treatments and more.
 Storage
Castor oil can be kept at room temperature because it's a very stable oil. Never store your oil in a plastic bottle. Avoid pre-combining with other skin oils or essential oils to maintain integrity of the oil.
How long will the bottle last?
The 3.38 oz bottle is perfect for cosmetic applications and should last 3-6 months or more.
The 16.9 oz bottle will last for approximately 30 uses, using the recommended 1 Tbsp. per application into your Castor Oil Pack.
Can I drink castor oil or take castor oil capsules?
While our castor oil is food grade, it's a stimulant laxative when taken orally that can cause cramping and make you rush to go to the bathroom. Our oil is labelled for topical use only. Our preference to gently relieve constipation is to use it with the Queen of the Thrones® Castor Oil Pack.
What's the difference between our Organic Castor Oil & Jamaican Black Castor Oil?
Golden castor oil is pure, while Jamaican black castor oil is black because of the heat process and ash from castor beans. This heat process promotes an alkaline pH but may destroy its nutrients. Queen of the Thrones® castor oil is hand-selected by a naturopathic doctor and extra virgin cold-pressed to maintain all of its antioxidants. Plus it can be made more alkaline by adding baking soda.