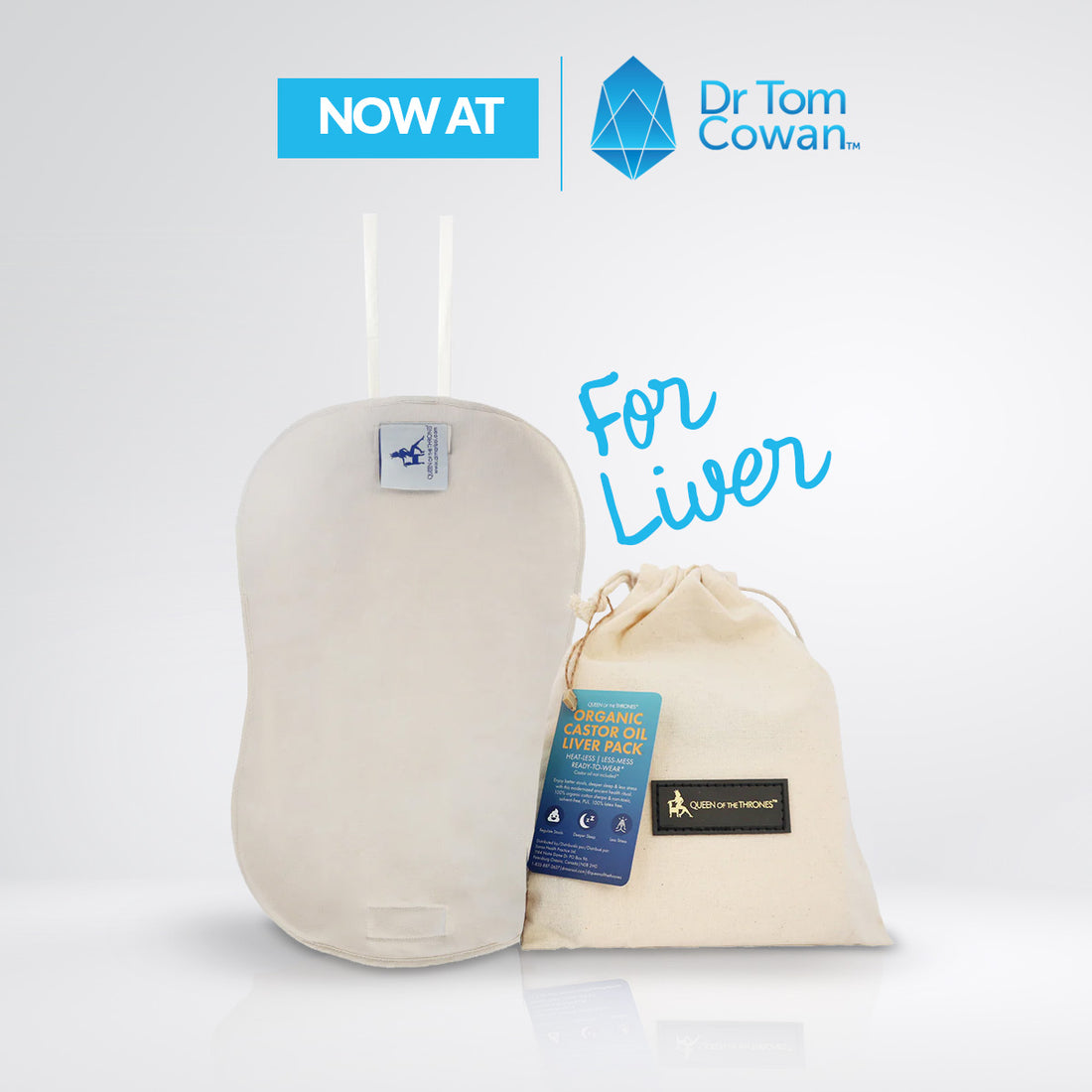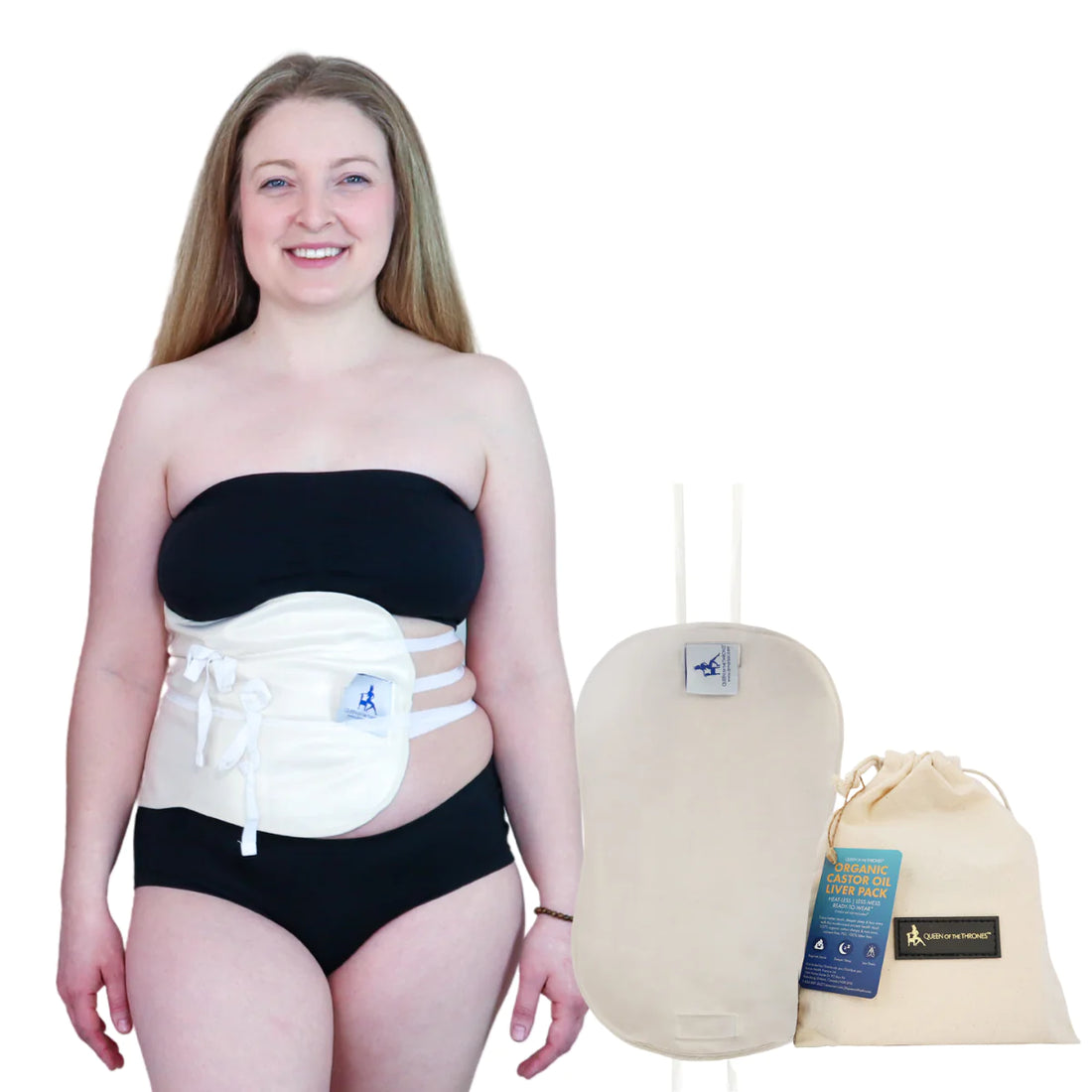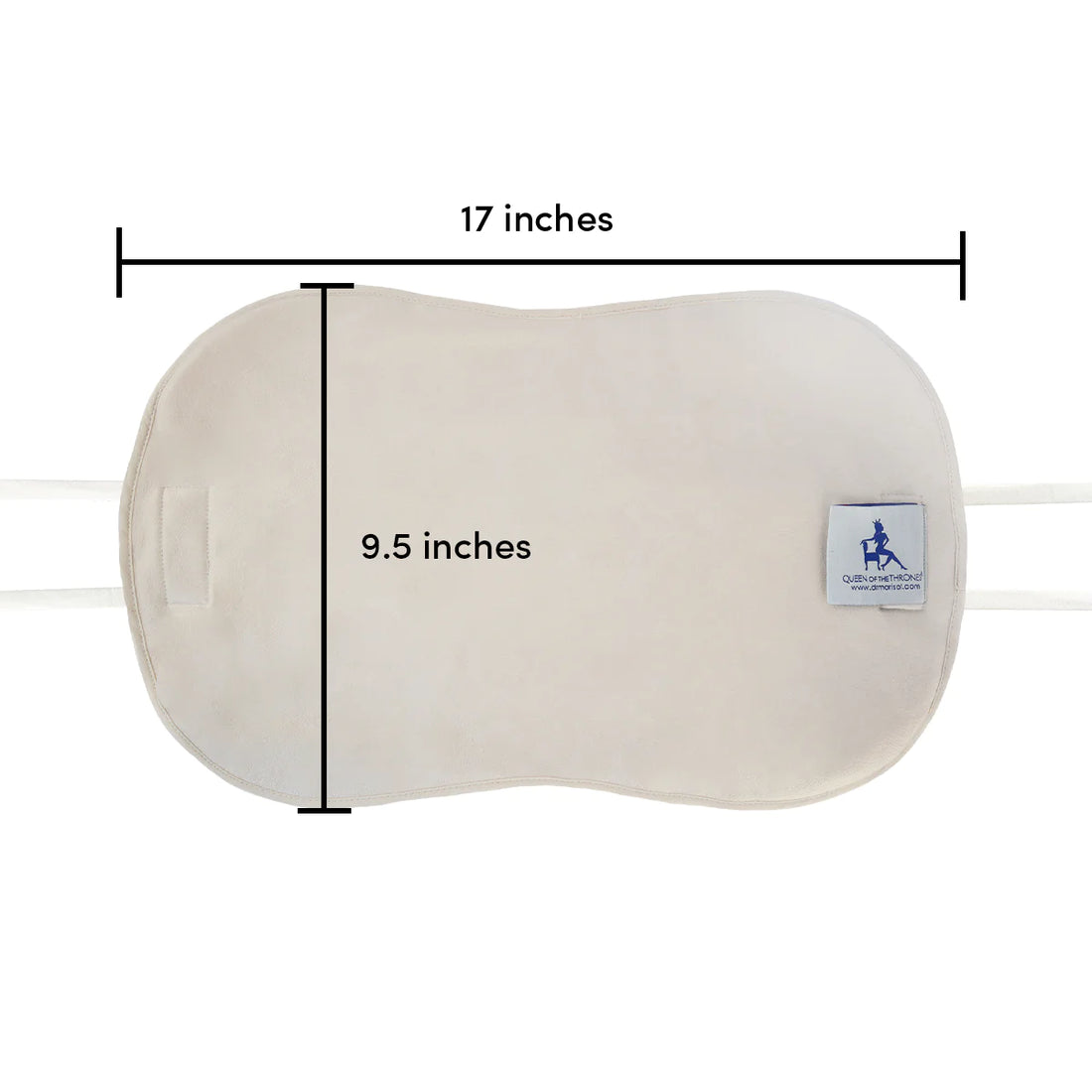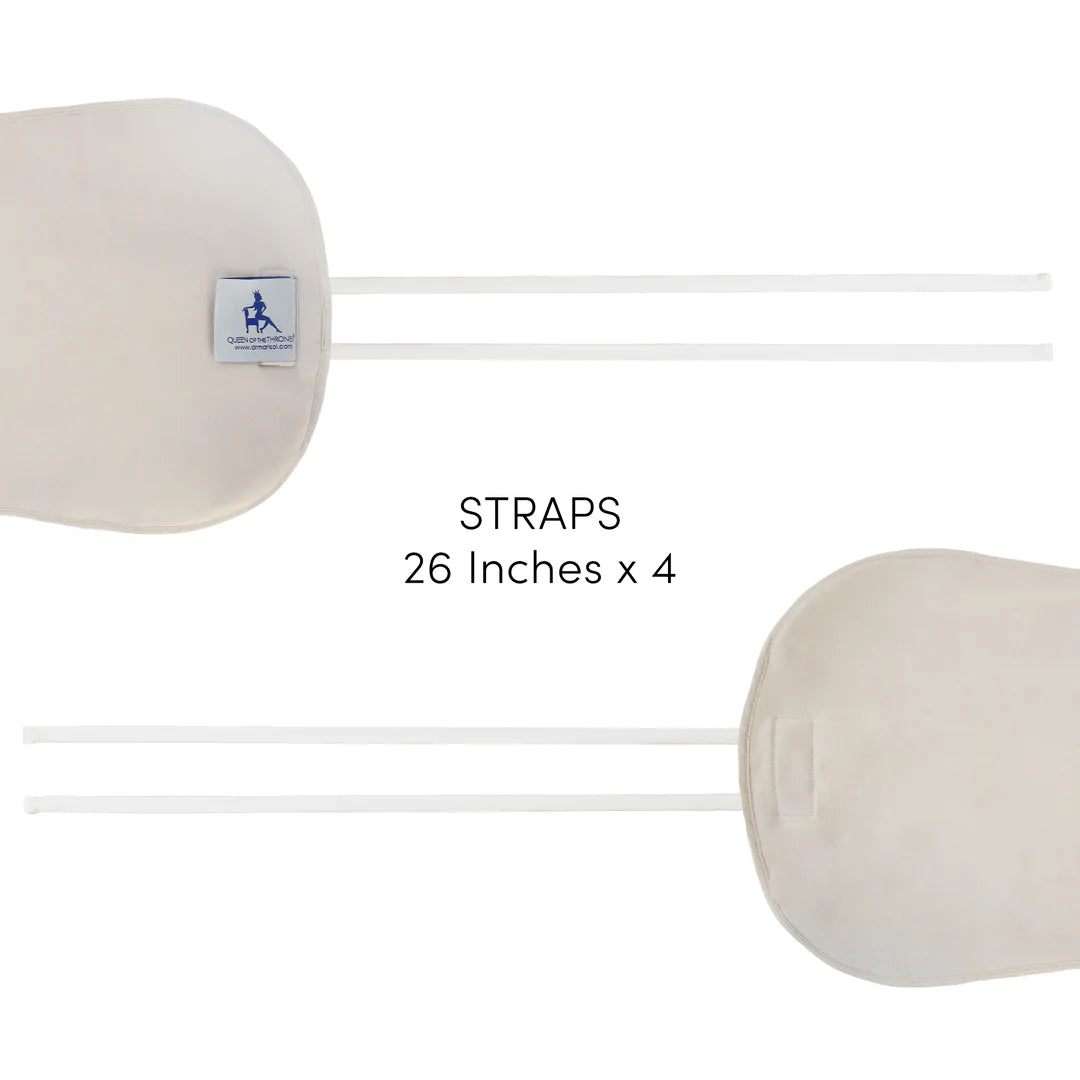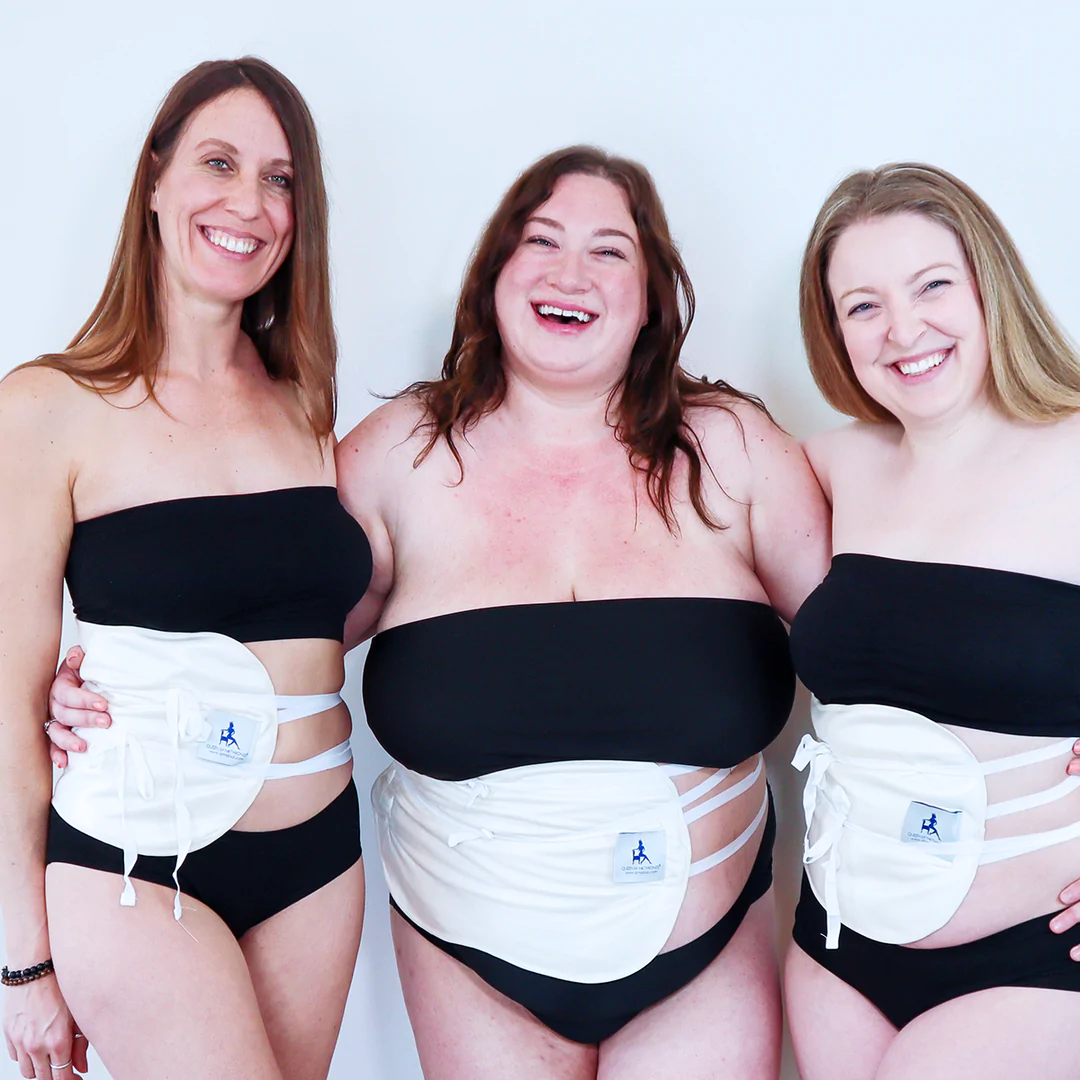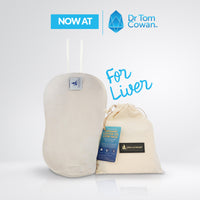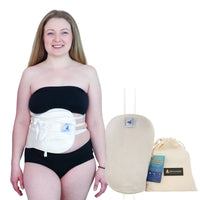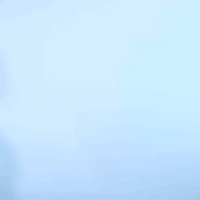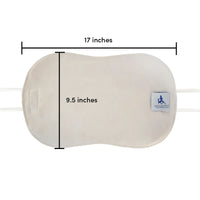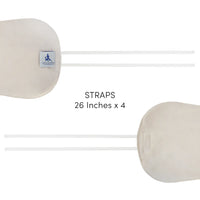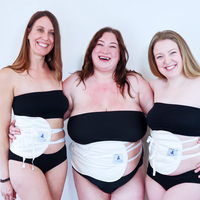 It works with organic castor oil (SOLD SEPARATELY)
Reusable, less-mess Organic Castor Oil Pack for liver detox, lymphatic drainage, and colon cleansing. Scientifically designed by a naturopathic doctor to support:
Hormone balance 
Deep sleep
Less stress and anxiety
Inflammation and leaky gut
Constipation and bloating relief
Made in North America
Free of Chemicals and Dyes
Cruelty Free
What will it do for me?
When you turn on your natural healing functions by wearing an Organic Castor Oil Pack, there is a shift from stressed to the 'rest & digest' state, which promotes:
Liver Detox -Local liver inflammation is reduced and blood flow is increased, supporting enhanced detox.
Lymphatic Drainage -The gentle compression over the liver area (highly concentrated with lymph and circulatory vessels) supports lymphatic drainage and cleansing.
Colon cleansing -Through balancing gut inflammation, supporting the microbiome via breaking down biofilm, and promoting movement of the gut, this enhances digestion, absorption and better elimination.
The best part? Food, supplements and medicines can be safely combined and often work better when doing Castor Oil Packs.
Will it fit?
The compress is made to fit over the size of the adult liver. It fits most bodies with its long, soft straps that hug your curves so comfortably you can sleep or go about your daily routine.
Length: 17 inches
Width: 9.5 inches
Middle Width: 7 inches
Straps: 30 inches
What's it made of?
The Organic Castor Oil Pack for Liver is free of chemicals, flame retardants, dyes, & bleach.
90% organic cotton Flannel- Hypoallergenic soft material gently shifts body into a relaxed state needed for liver detox and hormone balance
5% polyurethane (PUL)- Less-mess layer naturally holds in body heat
5% nylon- Four soft, stretchy, adjustable straps, comfortable to sleep and move in
How do I use it?
Your Castor Oil Pack for Liver is a simple 2 step process when paired with Organic Castor Oil (sold separately):
Step 1:Pour 1 tbsp of Organic Castor Oil from an amber glass bottle (sold separately) onto the soft cotton side of your pack
Step 2:Place your Castor Oil Pack over your liver area (right side below rib cage), and tie it in place! That's it!
For optimal benefits, wear your Castor Oil Pack for Liverfor a minimum of 1 hour, or overnight for best results.
For hygiene, apply fresh Castor Oil each time and replace your pack every 2 months!
Please do not use your Castor Oil Pack for Liver over your delicate ovaries, uterus and pelvic area. It's unclear if toxins are transferred from the body into the pack. Instead, use the Castor Oil Pack for Pelvis for treatment of the pelvic region.
FAQs
Does my Castor Oil Pack come bundled with the Castor Oil?
No, Castor Oil is sold separately from the Packs. Always combine the Castor Oil Pack with 100% Pure, Certified Organic, Extra Virgin Cold-Pressed, Hexane-Free Castor Oil in a glass bottle. We sell a very high-quality Organic Castor Oil from the same trusted manufacturer as the Castor Oil Packs directly on our website, for your convenience.
Can I just drink Castor Oil or rub it on my skin?
If you take Castor Oil orally (sold separately), it's a stimulant laxative that can cause cramping and make you rush to go to the bathroom. Simply rubbing Castor Oil on your skin and throwing an old T-shirt overtop (A.K.A. the "Lazy Castor Oil Pack") only gives you about 50% of the benefits. Without the pack, you lose out on supporting detox, lymphatic drainage and cleansing. The pack and the Castor Oil work synergistically together to help you feel better.
Will it impact any of my medications, hormone replacement therapy, birth control pills, IUD or supplements?
No, Castor Oil Packs are safely combined with any medication and supplement and may help them work better. They are safe to use while on hormone replacements, TTC medicines or birth control pills, and support hormone balance if you are weaning off. They are safe to use with internal IUDs. In very rare cases, a hypersensitivity reaction to Castor Oil may occur; if this should happen, please discontinue use.

Are the Castor Oil Packs messy?
Has the mess and fear of staining your fabrics stopped you from doing a Castor Oil Pack in the past? That's why this pack was designed by a naturopathic doctor to be LESS-mess. NO, it is not mess-less, but it's LESS messy than a DIY pack. Always wear an old T-shirt over the top, just in case. *Note that your pack will become messy over time and it's unknown whether or not toxins are absorbed into the pack, so it's important to replace it after 2 months if you're using it nightly.
Do I have to add heat to it?
Extra heat is not necessary because the Castor Oil Pack is engineered to naturally hold in your body heat.

Can I wear it if I'm pregnant, breastfeeding, or on my period?
Fertility. Castor Oil Packs can be used for fertility support, especially the Castor Oil Pack for Pelvis, which is worn over the pelvic area.
Postpartum. Postpartum during breastfeeding, do not wear the Castor Oil Pack for Liver (wait until you've finished breastfeeding) but the Castor Oil Pack for Pelvis can be used to support healing and resetting of the pelvic and abdominal organs.
Pregnancy. Castor Oil Packs should NOT be used during pregnancy, unless advised by your doctor, doula or midwife practitioners.
Menstruation. Contrary to popular belief, Castor Oil Packs CAN be worn during your period. However, if it's your FIRST time ever doing a Castor Oil Pack, wait until the end of your period to begin, otherwise you may experience more intense period cramps. After regular usage there is no issue with doing your pack on your period. Often many practitioners note that your period improves with a regular Castor Oil Pack practice.
How can I do Castor Oil Packs for my hormone balance?
For hormone balance it's best to wear the Castor Oil Pack for Liver from the start of your period to ovulation (approximately 2 weeks) then switch to the Castor Oil Pack for Pelvis for the remainder of your cycle until you get your period (approximately 2 weeks).
No menses?
If you don't have a period, start with your Castor Oil Pack for Liver on the New Moon and switch to the Castor Oil Pack for Pelvis on the Full Moon.
Perimenopause or menopause?
Begin with your Castor Oil Pack for Liver on the Full Moon and switch to the Castor Oil Pack for Pelvis on the New Moon.
This is the hormone balancing protocol used to support a regular monthly hormonal cycle, good for all stages of life from puberty to fertile years to perimenopause and menopause.

How can I use Castor Oil Packs for detox and cleansing?
Detox and cleansing are all about balancing your circadian rhythm. The nightly practice of the Castor Oil Pack for Liver promotes balanced hormones and excellent sleep. Many wake in the morning to have a great BM.