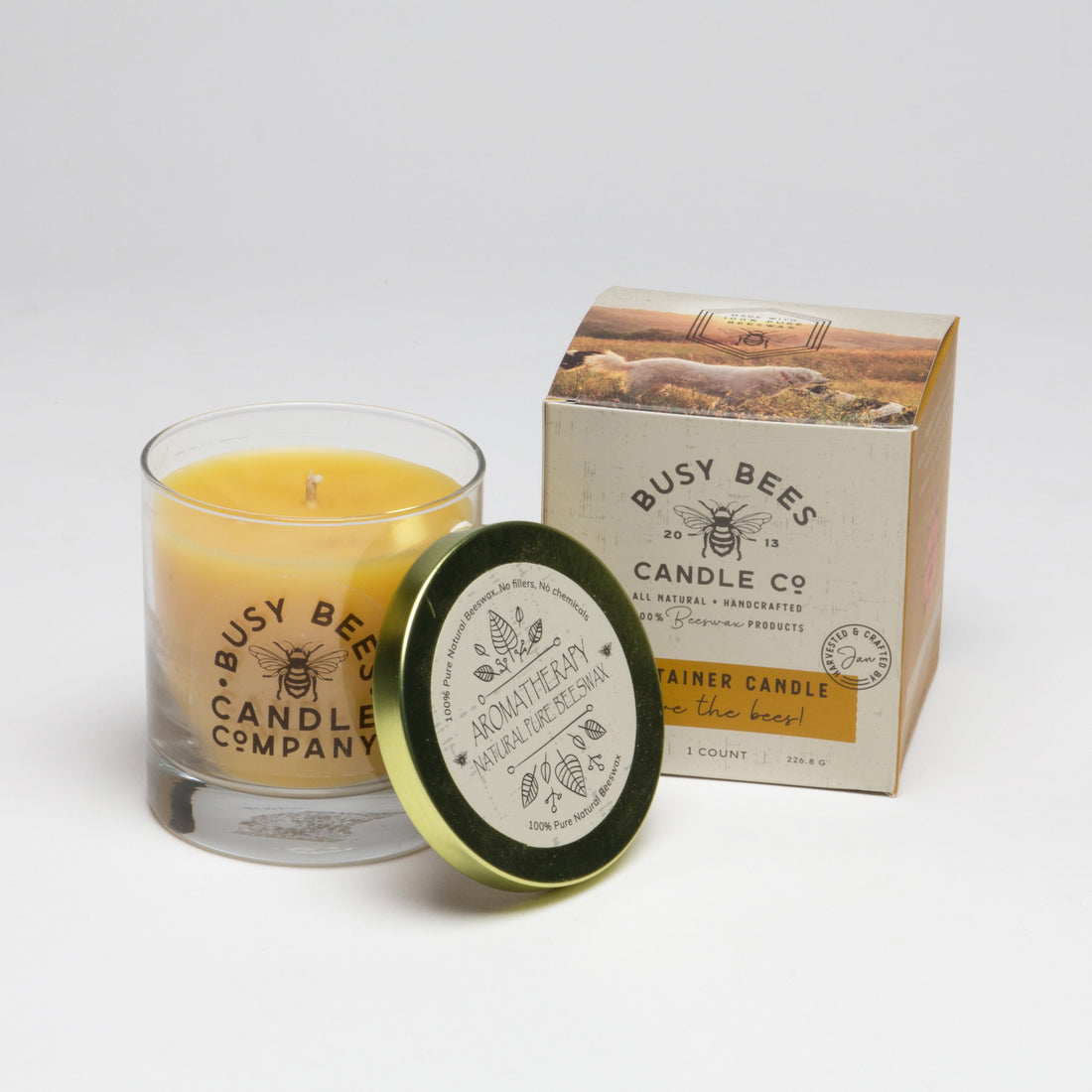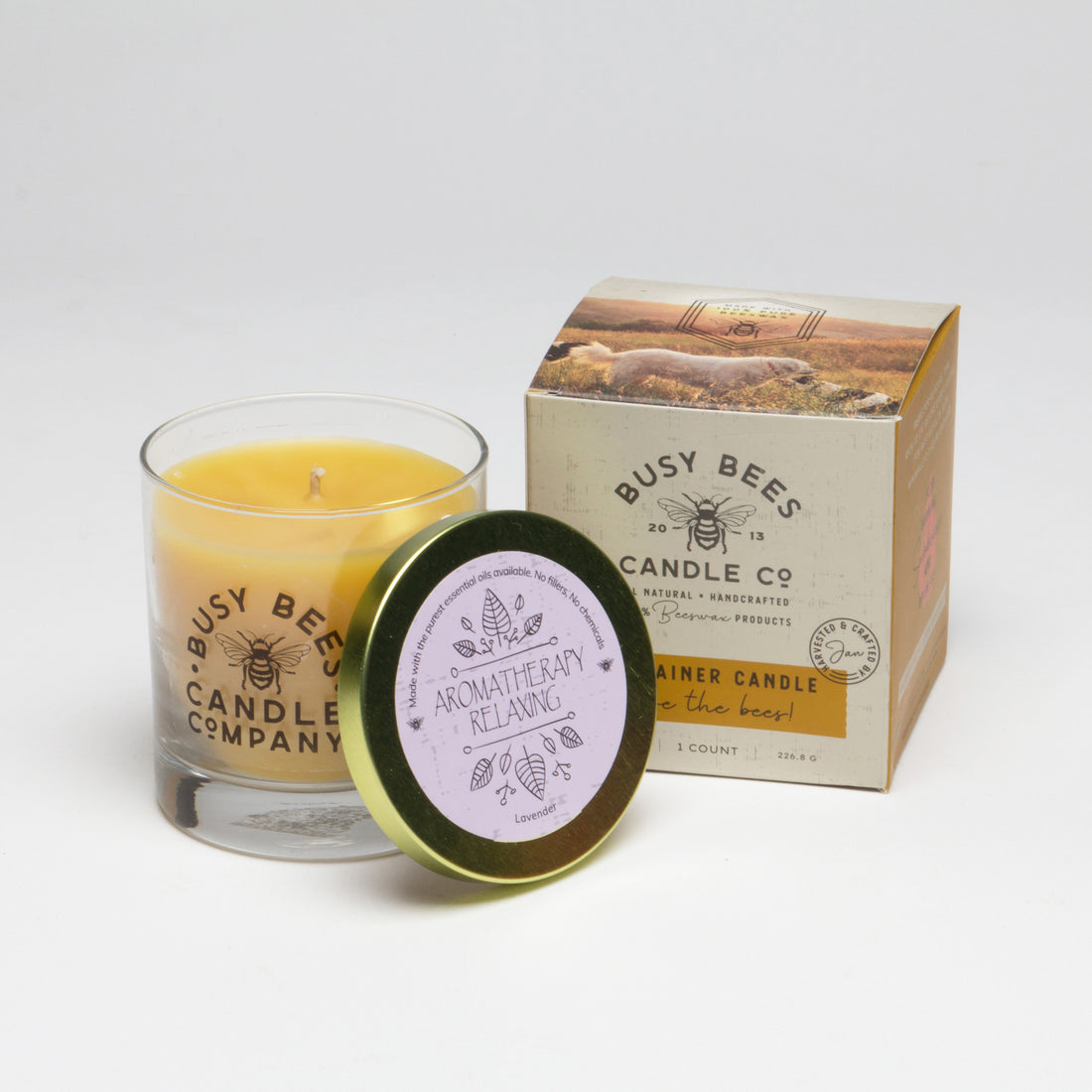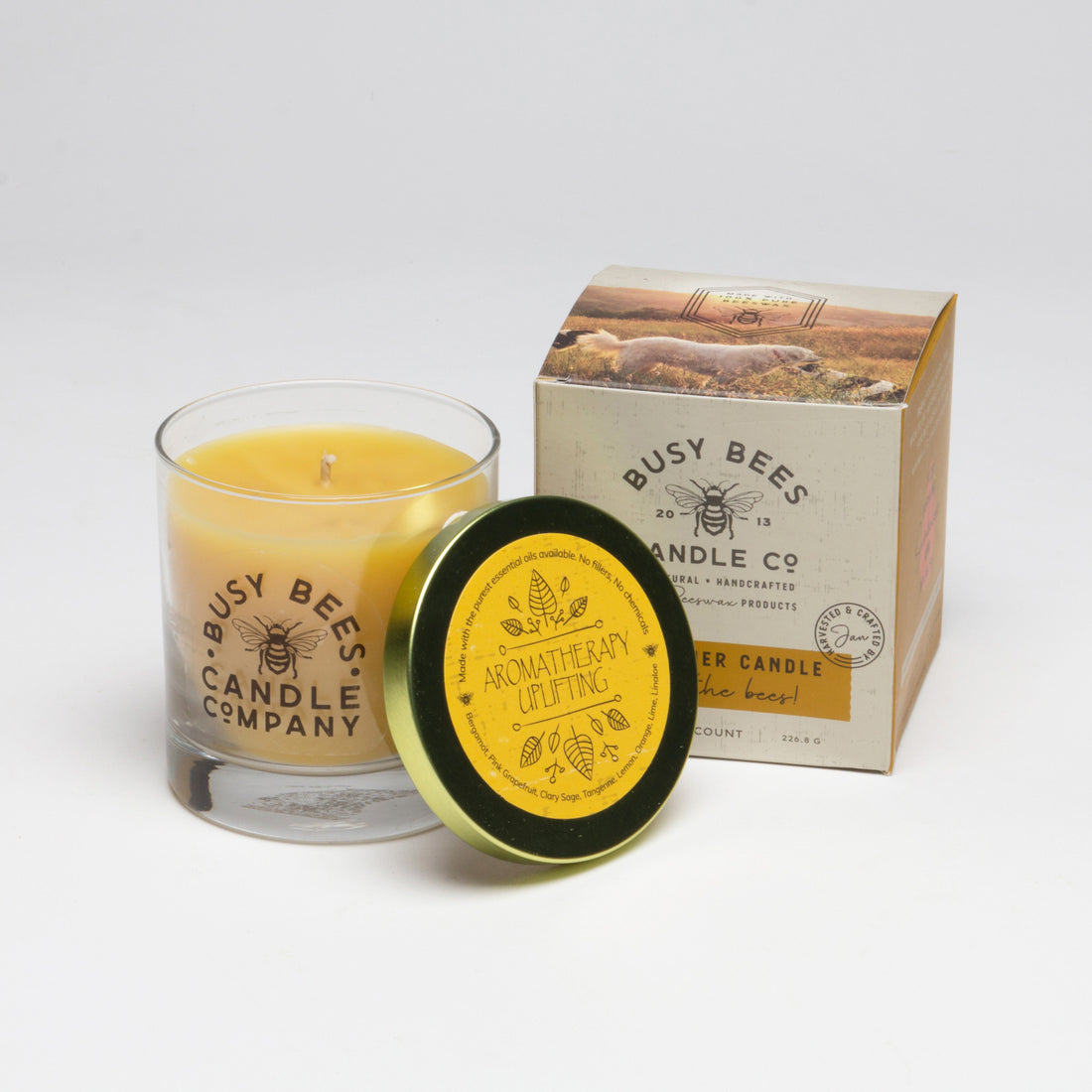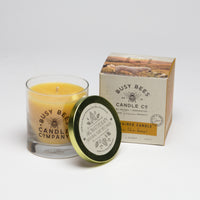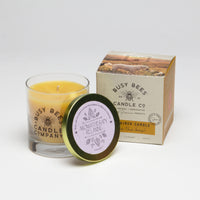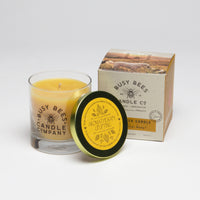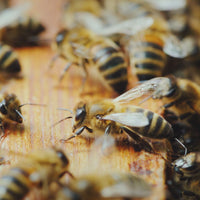 Our classic 8 oz Beeswax Jar Candles are handcrafted and hand-poured in small batches using 100% pure, locally sourced Beeswax, featuring a 100% raw cotton wick. Our 100% Beeswax Jar Candles are available in unscented, as well as several aromatherapy scents made with a proprietary blend of essential oils. Choose from: Unscented, Pure Relaxing, and Pure Uplifting. When burned, beeswax emits negative ions that purify the air, making it the cleanest burning wax available. Our beautiful 100% pure, locally sourced beeswax candles will add warmth and elegance to your home, while providing a welcome respite from artificial/electric light.
These jar candles are ready to light from the box. DO NOT trim wick before FIRST use. Trim wick to 1/8" to 1/4" before EACH additional use. For best results, burn for 2-3 hours each use. Never burn candle for more than 4 hours at a time. If the wick becomes too long or uncentered, extinguish flame, center wick if needed, and let candle cool. Trim wick and relight. For safety, burn glass containers on a fire resistant surface. DO NOT touch or move the container until it has cooled down. Never leave a burning candle unattended. 
All jar candles are made with 100% Pure, Locally-Sourced Beeswax. See scent options below for full ingredient list in each.
Scent Options & Ingredients
Unscented
Made from 100% pure beeswax.
Pure Relaxing
Made from 100% pure beeswax and lavender essential oil, a wonderfully soothing oil that has long been known for its relaxing qualities and calming healing benefits.
Pure Uplifting
Made from 100% pure beeswax and essential oils, this fragrant blend of Bergamot, Pink Grapefruit, Lemon, Mandarin, and Sweet Orange sings with the floral accompaniments of Clary Sage & Orange Blossoms. It's an energizing and stress-reducing mix of essential oils that quite simply can't be beat.
Beeswax Candles
We are pleased to offer these handmade 100% pure beeswax candles from Busy Bees Candle Co. Slow burning, smokeless and dripless, these candles are locally sourced, processed and made with love on a family farm in California. They contain no artificial perfumes, only essential oils, for a light, pleasant scent. By purchasing these products, you are helping to support the regrowth of bee colonies, which are so critical to the earth's ecosystem and our own survival! Illuminating your home with beeswax candles is also an excellent way to unwind and relax at the end of the day, while reducing exposure to artificial/electric light sources.
Sunshine by Day, Candlelight by Night
The new biology that humanity is moving toward revolves around an accurate conception of the living human being. In the old model, we are a kind of biochemistry set, whose guiding principles are random "collisions," probabilities and purposeless occurrences. In the new biology, we see that we are coherent energy systems that take information from the world around us, "download" this information into the structured water of our cells and tissues and create a unified living system as a result.
Read More